Infantry
The infantry is the core of the force and it is capable of carrying out maneuvers in all types of terrains and circumstances. They are known for their ability to conquer, occupy, organize and hold the ground. If necessary, they may pursue the enemy in order to complete their task.
The diversity of their weaponry as well as their mobility and shock capacity provide them with a well-balanced set of powerful skills that allow them to participate in joint combat with other branches. When in contact with the enemy they are specifically qualified to engage in close-fire combat.
The infantry is composed of motorized, mechanized, armored, mountain and Andean units. Moreover, most infantry units have characteristics that make them suitable for air transportation.
Each of them has its own features regarding equipment, capabilities, employment, types of targets and tasks to accomplish.
---
Artillery
Artillery delivers direct or indirect fire against land targets. Indirect fire is the most common type of fire employed for disabling targets because of its longer range.
Field artillery is the most important component of the fire support system. It provides freedom of action enabling the maneuver, as required by the commander of the unit, which acts upon fire.
Gunners participate in combat from larger distances, thus contributing to breaking the enemy's will to fight, gaining ground in the battlefield and restricting enemy troop movement as well as disrupting their logistical, command and control systems. This arm can carry out surprise fire attacks because of its ability to concentrate fire in specific areas in minimum time.
Among their various means there is towed and self-propelled artillery, rockets and anti-aircraft warfare, as well as target acquisition. Because of their combat power they can have a very decisive influence on the outcome of an operation.
---
Armored Cavalry
This branch is specially qualified for long-range direct fire combat, scouting and contact with the enemy, as well as encounter battles, tactical liaison and surprising the enemy. It is prominently employed in favor of achieving decisive outcomes.
It is known for its tactical mobility, fire power, flexibility, ability to protect means due to its armored features, clashing power and shock.
This branch is essentially quick and serves an offensive role. Generally, armored cavalry units integrate combat teams comprised of armored and mechanized infantry components, contributing in flexibility and providing complementary resources that are vital to the success of the maneuver.
Within this branch there are scouting units that vary in magnitude, features and composition according to the scenario where they are to be employed. These may be armored, mounted and mountain scouting units.
---
Engineers
This is a technical branch with capabilities that provide continuity and smoothness to maneuver units helping them reach their objectives. It can be employed in all kinds of terrains in favor of the maneuver. They perform specialized work aimed at providing mobility, counter mobility and survivability to the ground force, which includes performing combat roles if necessary.
They contribute to own forces by increasing combat efficiency in any tactical action, while also hindering enemy capabilities and influencing their moves through destruction, construction and obstruction.
They are organized in motorized, mountain, mechanized and construction combat engineering units.
---
Signal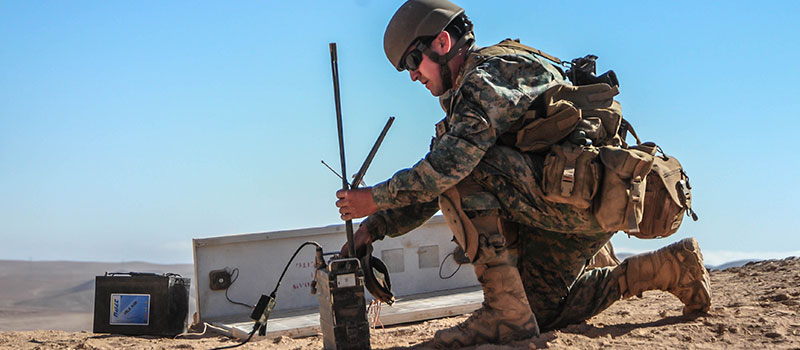 This branch runs communications in the different levels of military work, executing tasks that allow the military to exploit the electromagnetic and cyber-space spectrum in their benefit.
The platform of telecommunications, computer science and electronic warfare is composed of its technical means, which provide flow of information derived from processes that are inherent to the ground force management and action. To this regard, the Signal Branch is responsible for exploiting and maintaining command and control systems in order to contribute to the efficiency of the decision-making cycle.
---